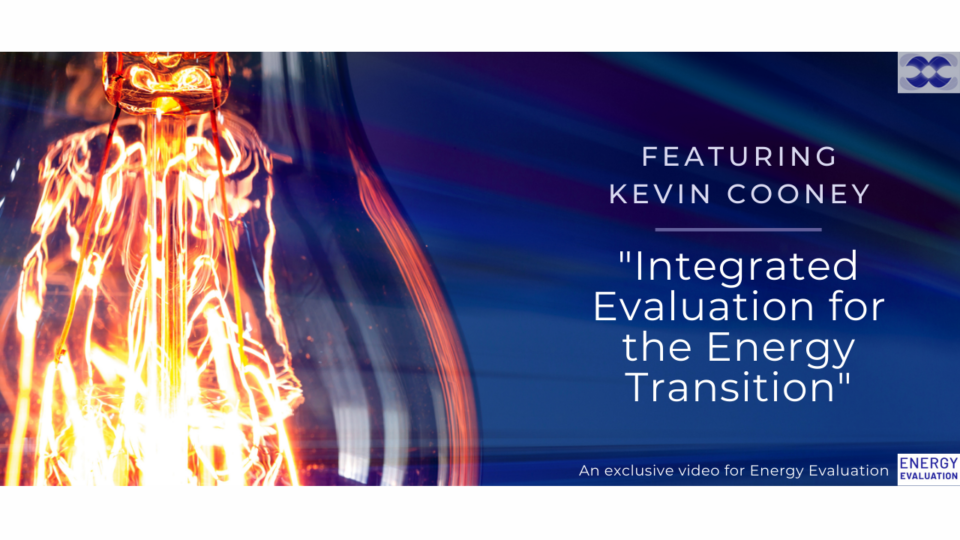 Watch it here! https://youtu.be/jpGOe3fUngU
Energy Evaluation Org are pleased to present an exclusive presentation on Integrated Evaluation for the Energy Transition featuring Kevin Cooney.
Kevin owns Buka Energy Strategies and is a key member of Energy Evaluation, sitting on our Board of Trustees.
Today Kevin takes us through the Energy Transition needed to reduce greenhouse gas emissions, and why this Energy Transition needs integrated evaluation. He ends with how Energy Evaluation Org fits into the transition.

Timestamps:
00:24 : Introduction to Kevin Cooney
01:24 : What is different about the energy transition
04:06 : Key trends and opportunities driving the transition
07:19 : Why evaluate programs, policies and investments in an integrated manner?
09:20 : 'If it quacks like a Duck…' supply/demand imbalances
11:35 : A truly Smart Grid integrates DERs
13:54 : Three Tiers of DER Analysis
17:52 : Net Present Value often varies across Investment Categories
20:20 : People and Process Impacts
22:41 : How energy Evaluation as an Organization fits into the Energy Transition
Thanks Kevin for a great presentation!
Don't forget to follow us on LinkedIn: https://www.linkedin.com/company/26607587/ and Twitter: https://twitter.com/EnergyEval for more
Sign up to our mailing list for updates: https://expertevents.eventsair.com/energy-evaluation/eoi/Site/Register